Looks like someone is tired of all the theatrics….
"The top Democratic congressional leaders are calling on special counsel Robert Mueller to testify on Capitol Hill as soon as possible following what they describe as Attorney General William Barr's "partisan" handling of the release of the Mueller report.

House Speaker Nancy Pelosi (D-Calif.) and Senate Minority Leader Charles Schumer (D-N.Y.) released a joint statement early Thursday, hours ahead of when a redacted version of Mueller's report is expected to be released, and hours after a New York Times report revealed that White House lawyers and Department of Justice officials have already repeatedly discussed details of Mueller's conclusions.

The Democratic leaders laid out a series of actions they say show Barr as being loyal to the president.

"Attorney General Barr's regrettably partisan handling of the Mueller report, including his slanted March 24th summary letter, his irresponsible testimony before Congress last week, and his indefensible plan to spin the report in a press conference later this morning — hours before he allows the public or Congress to see it — have resulted in a crisis of confidence in his independence and impartiality," Pelosi and Schumer wrote in a statement."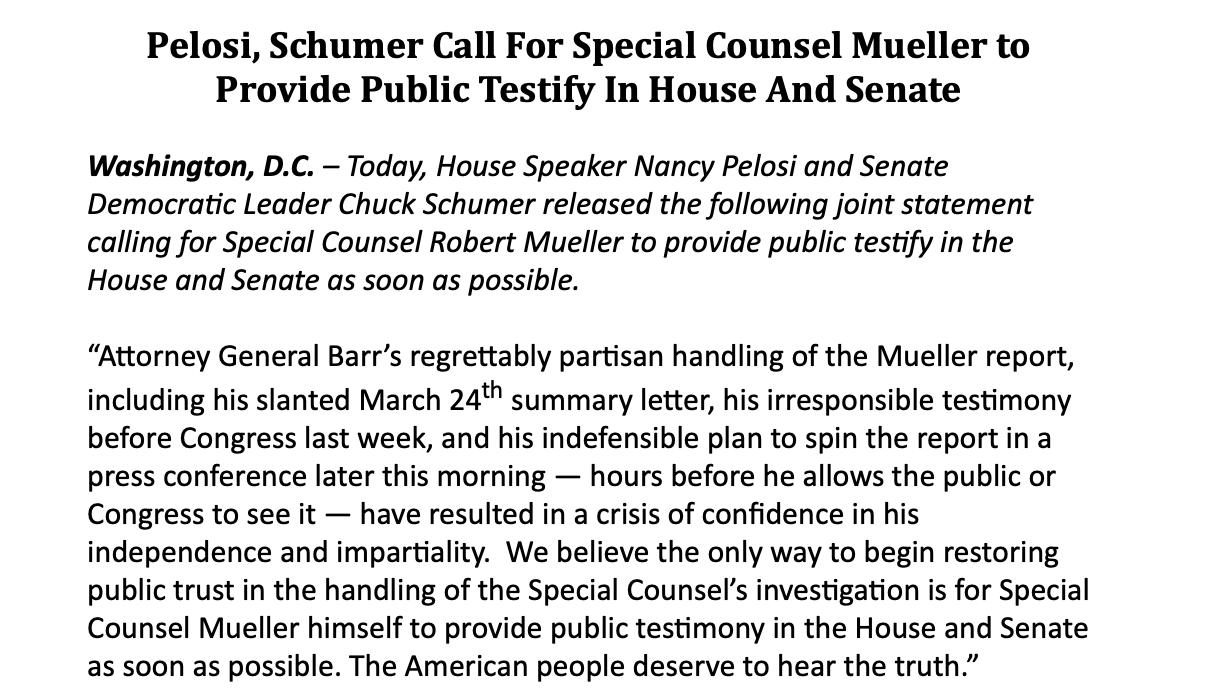 Personally, I think this should have been done three weeks ago when Barr initiated act one of this Kabuki shit-show.
But maybe they had their reasons to delay.
What steps will Barr and Trump take to prevent Mueller's testimony?
He seems a bit old to be drafted into the Space Force.
Please follow me on Twitter @durrati