This was only a matter of time. Apparently, the Adderall is kicking in and Trump went bonkers when Bernie Sanders was cheered on Fox News, of all places, when he spoke in favor of Medicare for All. So, here's the retaliation from the Child in Chief.
I believe it will be Crazy Bernie Sanders vs. Sleepy Joe Biden as the two finalists to run against maybe the best Economy in the history of our Country (and MANY other great things)! I look forward to facing whoever it may be. May God Rest Their Soul!

— Donald J. Trump (@realDonaldTrump) April 17, 2019
Is Trump predicting the imminent demise of Messrs. Sanders and Biden? Or stating an intent to slay them himself? He's clearly trying to sound like the Marshall waiting for the gunslinger to show up at noon on Main Street, but he doesn't sound powerful, merely stupid.
So, what is this now, the 2019 equivalent of the "second amendment people" crack? Threats against a former vice president and a sitting senator, by the incumbent?  All the cultural nerve endings that still carry a residual sense of what protocol and decency in Washington used to be, have just wiggled their follicles and collapsed, once more, as the mind recoils in horror, realizing this is the New Normal. Yes, this isn't just an awful dream, it is actually taking place (although I like to fantasize that there is some alternate reality where Hillary is in the White House and business as usual takes place.)
The reaction was what you would expect.
"May God Rest His Soul": a phrase used to show respect when speaking about someone who is dead. WTF is wrong with you, #Trump?

— Andy Ostroy (@AndyOstroy) April 17, 2019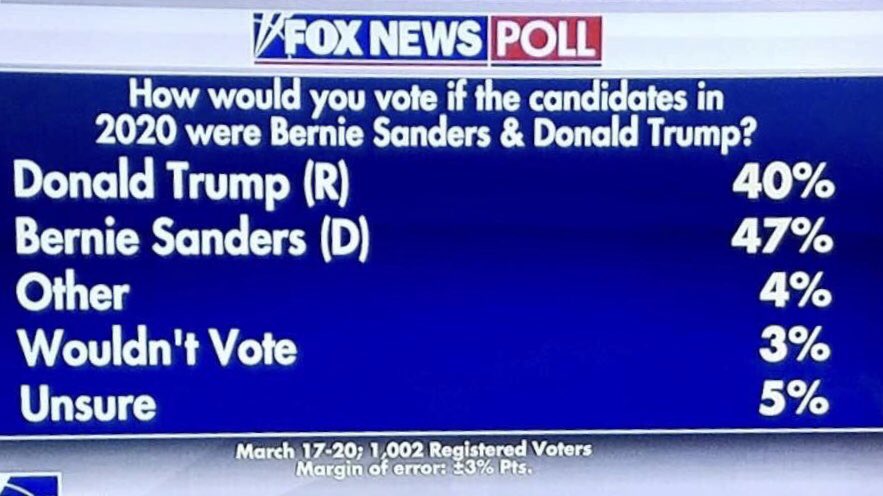 This is clearly what drove him insane. Bernie cleaning his clock in a Fox News poll. How surreal. The Fox News poll was posted on Twitter by vlogger Kyle Kulinski, who also posted this
He's legitimately terrified of Bernie and I'm extremely here for it pic.twitter.com/FBppFGzWEJ

— Secular Talk (@KyleKulinski) April 17, 2019
Now, if you didn't catch the nuance in this tweet, what it means is that "Bernie only got cheered because he 'stuffed' the audience with supporters. Why wasn't the audience stacked with my dummies?"
And what is with Fox News, indeed? What was with Brutus, when he showed up on the steps of the capital when his buddy Julius Caesar was taking a stroll that day?
Cast your mind back to the mystery meeting that none other than Mitch McConnell and Rupert Murdoch had in McConnell's senate chambers several months back, after hours. Makes you wonder what was discussed, doesn't it?
My prediction? Both McConnell and Murdoch will still be standing, when they can't use Trump anymore for their purposes. I don't know when it will be, but I'm quite sure that it is what will be, when the time is right.
Maybe Trump is already getting a clue about his impending irrelevance.